Friday, June 10, 2011 at 7:04AM
Neon Neon is a breath-taking range of limited edition furniture released some time ago by Lee Broom in London. It is just as relevant in 2011 as it was when Lee revealed it to the world a few years ago.
The mere thought of the shapely legs of vintage chairs and dressers being 'dressed in neon' seems frankly, impossible. Even his selection of furniture seems so jolly perfect that one wonders if he has ethereal assistance. With every release by Lee Broom we all catch our breath here in Sydney and think, "Yes! The Lee Broom visionary fairy has visited again".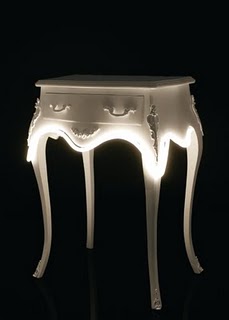 So for the sake of creative posterity, and because these rarified products are still available on a customized basis for those who can afford that which they love, we have decided to dedicate todays' blog, solely to the Neon Neon range.
The graceful legs of the bedside dresser catch the subtle glow from the neon tubes that flow along the under-drawer curves. This creates up-lighting to the drawer handles and gives the entire unit a ghostly night-light appearance.
The Bentwood style chair benefits from neon tubes snaking along all its flowing lines somehow adding a new dimension to it as a unit.
Below, the beautiful Louis chair is swathed in the warm electric red glow of lights that follow the outline with just enough detail to identify it, and just enough mystery to make it surreal.
In Sydney, the interior agency Considered This? is happy to handle all expressions of interest in the entire Lee Broom range.
Lee Brooms website: http://www.leebroom.com
Considered This: http://www.consideredthis.com.au
Email: info@consideredthis.com.au